Matterdays #26: "Stop making yourself earn your unconditional compassion"
Welcome to Matterdays, a digital postcard delivered most Saturdays. Inside you'll find a grab bag of goodies, including personal anecdotes, links to writing I found insightful or charming, songs both joyful and poignant, and–if I'm feeling saucy–a snippet of fiction.
This week in Matterdays
From the Archives: An insightful commencement speech.
Top of Mind: A video on the benefits of stacking gratitude.
Wild Card: Dogs playing.
Let Your Soul Catch Up With Your Body: A visit from an Internet Big Sister.
From the Archives: This is Water
May 21st, 2005. Graduation day at Kenyon College. David Foster Wallace, American novelist and professor of English and Creative Writing is about to give one of "the best commencement speeches ever delivered" (Time magazine).
The next 23 minutes is an unflinching exploration into one human's insights and interpretations about empathy, higher education, freedom, ideals, compassion, and more. Seamlessly blending cold intellect and hot-blooded zeal, Wallace's speech is at once a reflection on his own experiences and a call to action for his audience.
People wiser than myself have analyzed the speech. I'm not here to do that. I'm here to share it with you, in the hope it will change your life or how you view the world.
Top of Mind: Stacking Gratitude
I realize writing about gratitude anywhere in the vicinity of Thanksgiving is a bit of a cliche, but guess what? I don't care.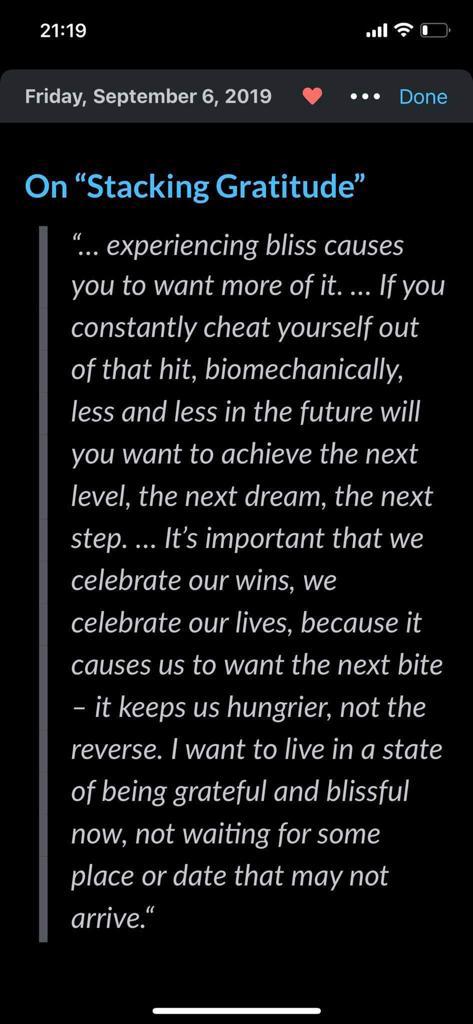 I shared this screenshot with a friend on Wednesday. They asked where I'd gotten the quote from. After some thorough Googling, I found the origin: a motivational video I'd probably found after falling down a YouTube rabbit hole.
Two notions in this interview that I found interesting are celebrating what matters and making promises to yourself.
Celebrating What Matters
What I want to highlight here is why celebrating things is important. Celebrating is important because it makes us want to do more things. Not to raise our self-esteem or to show how great we are, but to get our brain to function in a way that will encourage us to keep striving. Otherwise we are prone to, as The Neverending Story said, "let the sadness overtake us" and "sink into the swamp".
What you focus on matters as well. Choosing to focus on the 80% of what you did well, or what you did that you said you would do. Being aware of what matters, and choosing to think about that, instead of dwelling on the 20% that you didn't follow through on or didn't do as well as expected.
It's a concept that definitely falls under the category of "simple, not easy", but is nonetheless worth devoting time to mastering.
Making Promises to Yourself
"Trust is built in drops and lost in buckets." – Kevin Plank, founder of Under Armor sportswear company.
I've written about external validation before, but I like Ed Mylett's perspective on it. As he says, "Self-confidence is really self-trust." And that trust is built by doing what you said you would do, day after day.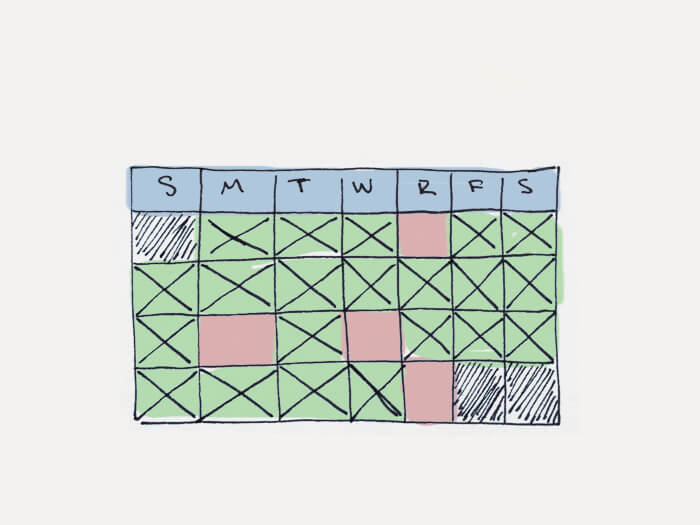 I myself have had success using Jerry Seinfeld's "Don't Break the Chain" approach. I'd hang a large 12-month calendar on my wall and write in different colors the things that I'd done that day: red for exercise, green for reading, blue for writing. It felt really good to look back at it when the year ended and see where I'd had long streaks, or reflect on what caused me to miss days. And if you're only worried about one habit, I guarantee that marking a giant X on your calendar will make you feel good.
Wild Card: Dogs Playing
Sometimes the algorithm blesses you with something you'd never even think to ask for: dogs playing with a balloon. And sometimes you say "screw it, why not", and you put it in your newsletter. Because why does everything need to be productive or valuable or insightful? Maybe some things can just be amusing.
That's it. That's the whole section. Enjoy the dogs. Keep scrolling.
Let Your Soul Catch Up With Your Body
This week I'll end with a TikTok Instagram Reel instead of a song. This video about self-compassion comes from @frankiedoodledandy, self-proclaimed "Internet Big Sister" and general ray of sunshine.
As someone with a loud and persistent inner critic and a tendency to always blame myself whenever things don't work out as I'd hoped, this is the kind of thing I'm always happy to see and hear.
"Stop making yourself earn your unconditional compassion."
If you need a reminder to be nicer to yourself, consider this that reminder.
That's all for this week. Thanks for reading, friend!
And remember: you matter.
Take care of yourself,
Matthew
What mattered in this edition for you? Hit "reply" and let me know!